We're pleased to announce our new website is now LIVE!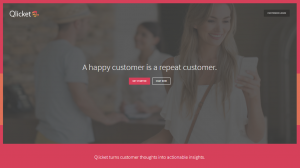 We're grateful to our designers, Wahila Creative, who've helped us to develop something that captures the spirit of our business and highlights the application of our solution beyond hospitality.
The new website has a clear, succinct structure. We've replaced excess text with visuals, so you'll get more from a quick read.
We've made it much more results-driven. On the homepage, you'll get an insight into just how effective our real-time feedback solution is for our customers.
In hospitality, our solution captures 12x more qualitative reviews and 59x more quantitative reviews per day than third-party review site sites like TripAdvisor. Moreover, it takes guests less than a minute to submit feedback.
Finally, it provides a glimpse into the exciting work we're doing in healthcare and retail.
Our mission is turn customer thoughts into actionable insights. We do this in a natural, proactive and un-intrusive way by leveraging your existing WiFi infrastructure.
Over the next few months, we'll continue to build it out with engaging content and helpful info. Watch this space!
We welcome your comments, feedback and suggestions. Check it out here.
P.S. We weren't ready to say goodbye to our old website just yet, so we moved it to a new domain hotels.qlicket.com… which also got a mini facelift.