One of the questions we're most frequently asked by our customers – that's you, lovely hoteliers and hospitality professionals – is 'how can I monetize my guest WiFi platform'?
Truth be told, there are many ways. AND you can combine them to make them more effective.
Here, we discuss three of the most common ways to monetize your guest WiFi platform. The one(s) you pick will depend on factors like:
Your customer base – are they big spenders or do they have light pockets? Are they young or old? Business travellers or tourists?
Your bandwidth – can it comfortably accommodate multiple WiFi networks?
Your location – are there local businesses you can engage to sponsor adverts on your splash page?
Below, we outline considerations associated with each. Let us know what you think!
3 ways to monetize your guest WiFi platform
1. Introduce a paid WiFi service 
Let's tackle the most controversial option first. Lovers of free WiFi, avert your eyes now.
You could start by asking all your guests to pay for WiFi.
Is it easy to do? Yes. Is it popular? No. Virtually none of our customers do this. We don't recommend it either.
Free WiFi is at the top of the agenda for most travellers (regardless of their profile and demographic). It's at the forefront of their minds when choosing a hotel. Unless your hotel is located along an interstate highway in the depths of Alaska (or somewhere equally remote) with few alternatives within a 50 mile radius, you really don't have much leverage to do this.
However…
If you still like the idea, you could introduce a tiered system, where you offer basic WiFi free of charge and high-speed premium WiFi.
Some big brand hotels do this. A handful of our customers do it too. Standard, basic WiFi is free and premium WiFi is typically charged by the day e.g. $9.99 – $14.99 for 24 hours.
If you're thinking about this approach, we'd encourage you to think about the type of guest you cater to. Do you serve business travellers or tourists?
Business travellers are typically willing to pay for a faster WiFi service. So are young families, so parents can sedate stream movies to entertain their kids.
I would also think about how long guests typically stay at your hotel. The shorter their stay, the less likely they are to buy a paid WiFi service.
Customers looking to implement a tiered system typically ask us about speed. Our recommendation is to offer a minimum download speed of 1 Mbps on the free service and a minimum of 4 Mbps on the paid service.
On the free service, your guests will be able to check their emails, visit Facebook and do basic things on the internet. On the paid service, they'll have a little more room to stream shows and videos.
You'll need to check that you have enough bandwidth to introduce a tiered system.
A final way to implement a paid WiFi service is to provide a certain amount (say an hour) of free WiFi and then charge guests per hour / per day for time beyond that.
Customers regard this as the most effective way to monetize their WiFi. An hour or two of free WiFi is typically enough to get visitors hooked. If they're hooked, they're more likely to buy.
Once again, we encourage you to carefully consider the demographic of your guests and the duration of their visit. A paid WiFi system won't get you anywhere if your guests aren't willing to pay.
2. Charge local businesses to advertise on the splash page
Another way to monetize your guest WiFi is to charge local businesses to advertise on your splash page.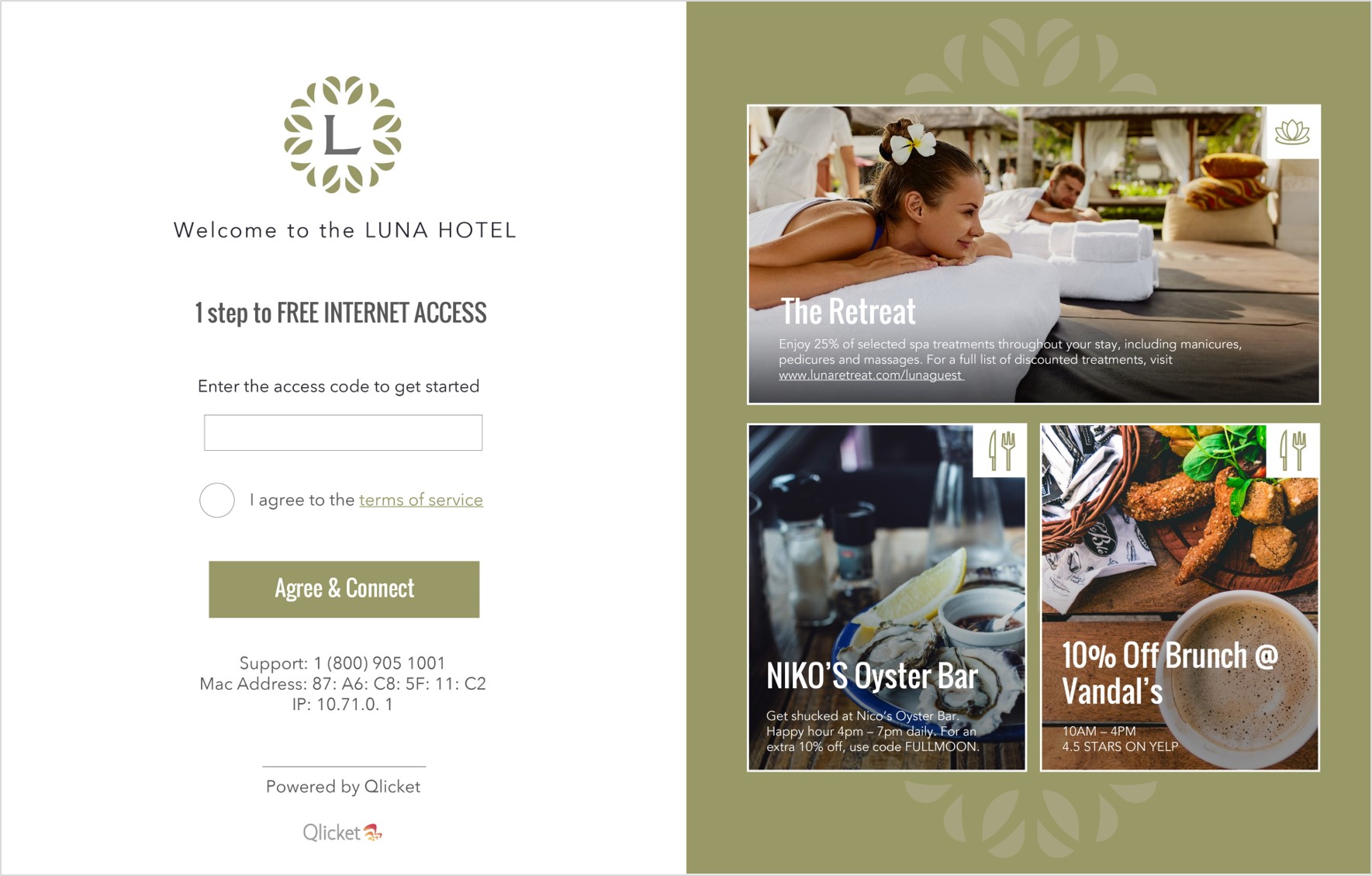 Typically, 90% of hotel guests log into the WiFi. They will all see the splash page. Hence, you have a golden opportunity to engage them.
You could team up with local restaurants to offer discounts or publicise happy hours. You could also offer promotions on tickets to local attractions, such as theme parks, museums and zoos.
Our customers typically charge local businesses between $50 and $100 to advertise on the splash page. Our system allows them to report clicks and impressions back to the business.
3. Promote onsite amenities, such as bars, spas and restaurants
A final (and usually less thought about) way to monetize your guest WiFi platform is to promote onsite amenities on your splash page.
Again, it's all about capitalizing on a moment most of your guests will experience: WiFi authentication.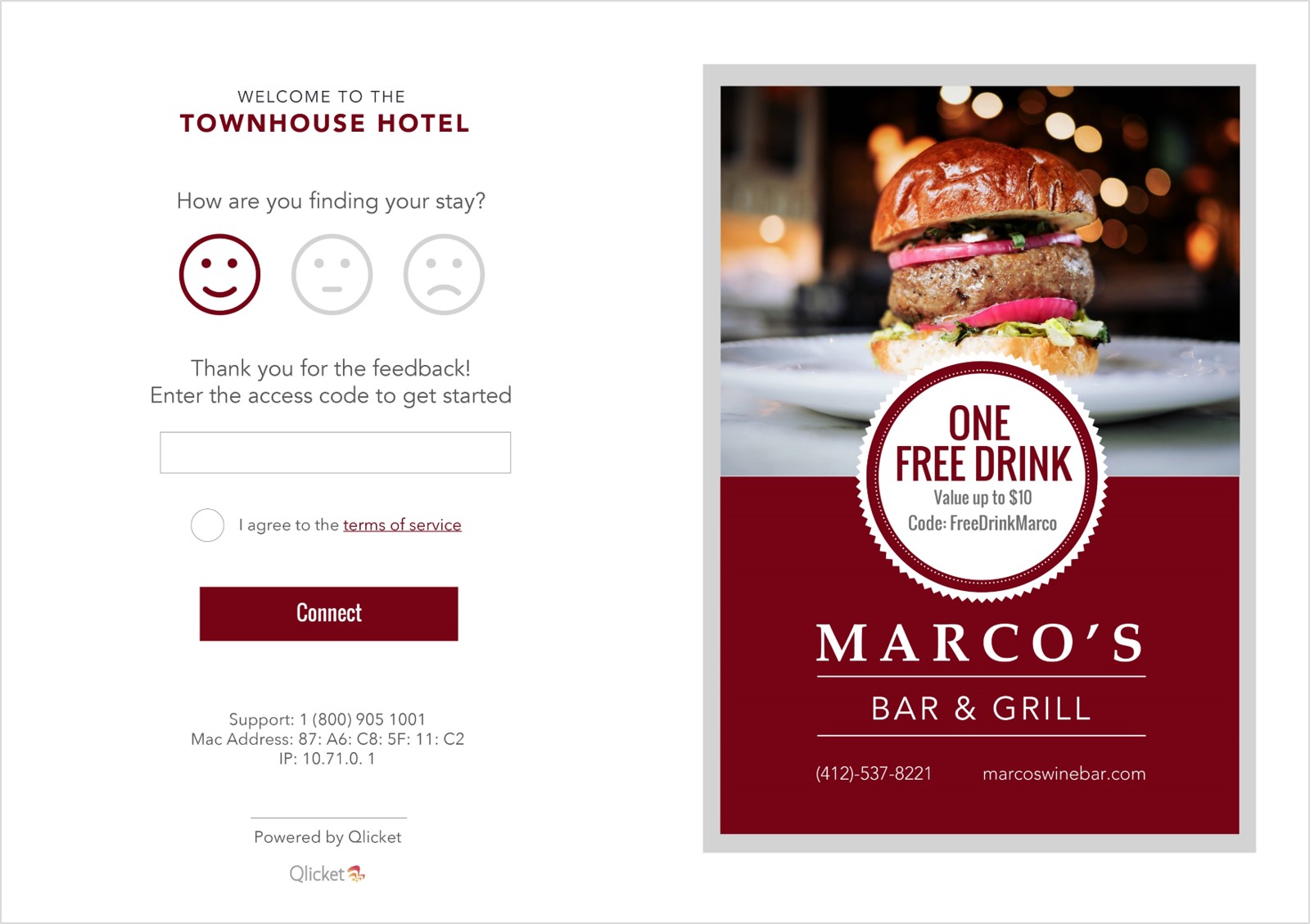 One of our customers wanted to drive more traffic to their onsite bar, so they placed a free drinks coupon on their splash page (as above). We tracked the advert carefully and we found that on average:
Guests who claimed a free drink in the bar bought two more. Additional drinks were priced at an average of $8 each (2 x $8 = $16). The cost of each drink was $2 (3 x $2 = $6). The bar would end up with $10 in profit ($16 – $6) for every guest who claimed the coupon.
Result?
We think so.
You could offer coupons to your bar or spa too.
NB. All the images in this post are ones we've customized for clients (except the Free Hugs one!)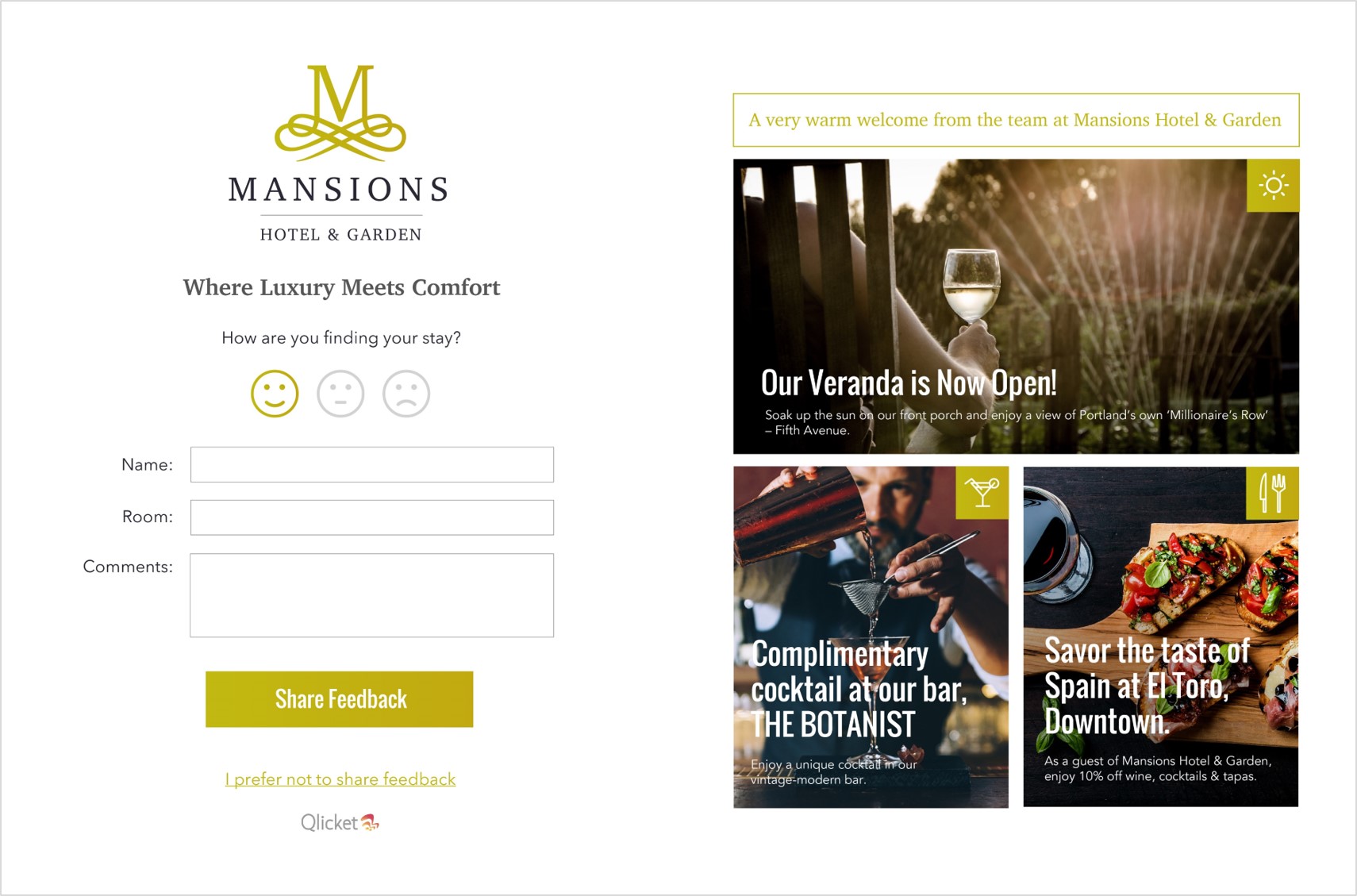 For any questions, please contact us directly!