It's an event that convenes entrepreneurs, business leaders, investors and supporters from around the world to promote collaboration, innovation and investment.
We're very excited about it! In fact, you might have seen of our recent social media posts. The theme of this year's event is 'Women First, Prosperity For All' and 52.5% of the attendee base are women. Participants hail from a total of 150 countries and territories across the world. The American entrepreneurs, investors, and ecosystem supporters represent close to 40 states. I'm delighted to have the opportunity to represent the US.
On Friday, I had the chance to hear from the team behind the Summit and representatives of the US Department of State as they came to Pittsburgh to host their pre-GES gathering: 'Road To GES: Pittsburgh – Technology For The Smart City'.
The event, which took place on Carnegie Mellon's campus, was focused on Pittsburgh as a leader in Smart City innovations and technologies – a natural fit given the advances that are taking place here in relation to innovation and transport.
Uber's use of the city as a test bed for driverless cars is just one example. As the SmartPGH video shows, the city has been rolling out advanced traffic signals to reduce congestion, increase efficiency and improve safety for pedestrians and motorists.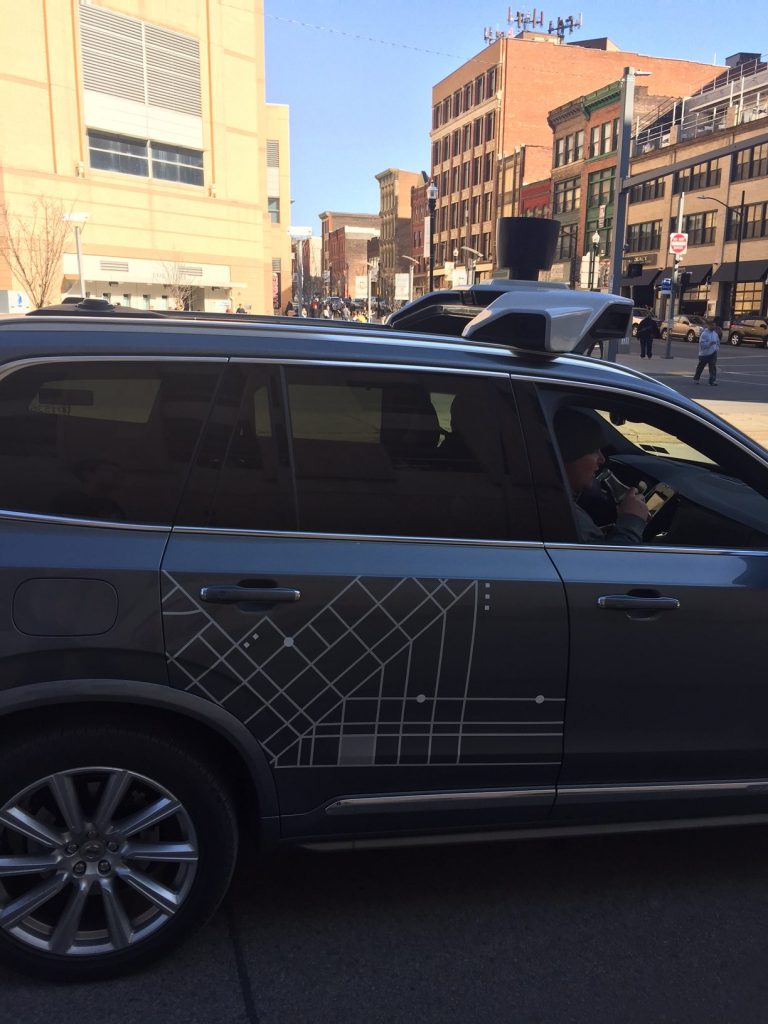 A driverless car seen in the Strip District earlier this year.
While the conventional definition of a smart city is one where technology is used to improve 'the quality, performance and interactivity of urban services', what resonated with me most about Friday's event is the way Pittsburgh is modifying its 'smart city' label to emphasize equality.
Representatives of the Urban Redevelopment Authority (Pittsburgh's economic development agency) – especially Jennifer Wilhelm, Robert Rubinstein and Susheela Nemani-Stanger – had some refreshing remarks around the vision for the Pittsburgh and what being a smart city means in the practical sense.
For the URA, who's remit includes improving livability, promoting job creation and encouraging the vitality of businesses and neighborhoods – a smart city is one that's inclusive and accessible. Yes, it's efficient. Yes, it's sustainable. But it's efficient and sustainable in a way that all city dwellers (young, old, rich, poor, students, young professionals, families) can appreciate.
I also enjoyed hearing from Evan Facher from the Innovation Institute of the University of Pittsburgh (who quoted Gustavo Petro above) and Karina Ricks from the City of Pittsburgh, who emphasized that the journey towards becoming a smart city is a marathon, not a sprint.
Future. Forged. For All.
I'm excited by the way Pittsburgh is incorporating equality and inclusivity into plans to grow as a smart city.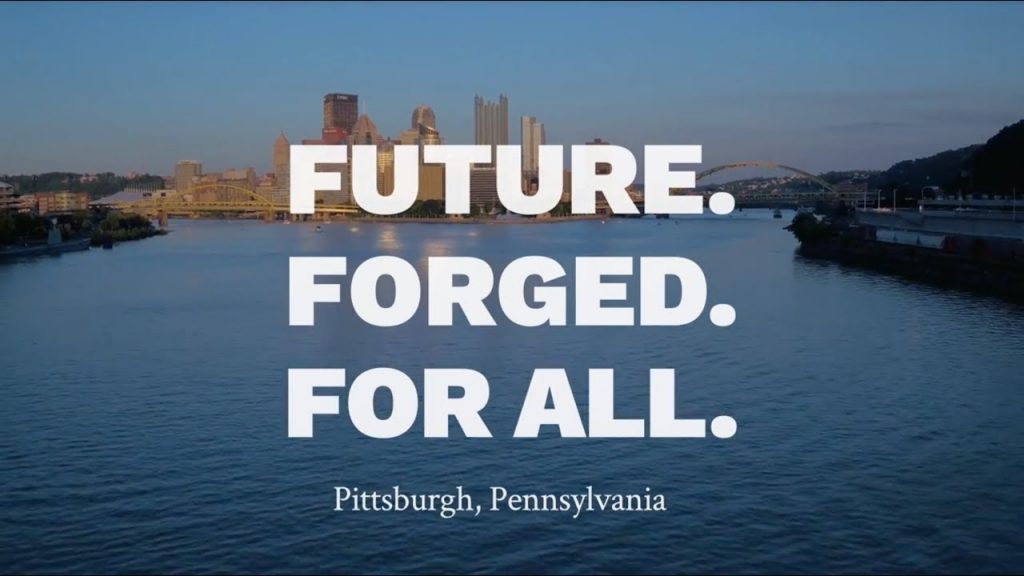 I was born and brought up in Pittsburgh. I moved away for college and the beginning of my career. Since coming back, I've noticed a change in the air. Spirits are higher. The tone is more optimistic. The city has developed a reputation not only for its tech prowess and general livability, but also for its cuisine and entertainment.
Jeni Cooper from Bridgeway Capital discussed the regeneration of the Strip District. She gave some insight into the story behind Smallman Galley, a young kitchen incubator designed to showcase the best new restaurant concepts in the city.
"Smallman Galley is a launch pad for the best new restaurant concepts in Pittsburgh. We showcase 4 innovative restaurants, a full bar, and coffee & espresso bar in our 6,000 square foot space.
We cultivate and accelerate undiscovered Chefs by providing a forum to showcase their capabilities, hone their craft, develop business acumen, and build a cult following behind their concepts."  Read more.
The sub-title of Friday's event was 'Future. Forged. For All.' – which was also the name  of Pittsburgh's proposal to host Amazon's second headquarters.
I can't think of anything more fitting for a city that's driving innovation, improving livability and developing new specialities that everyone can enjoy.
Vivek Kumar, CEO, Qlicket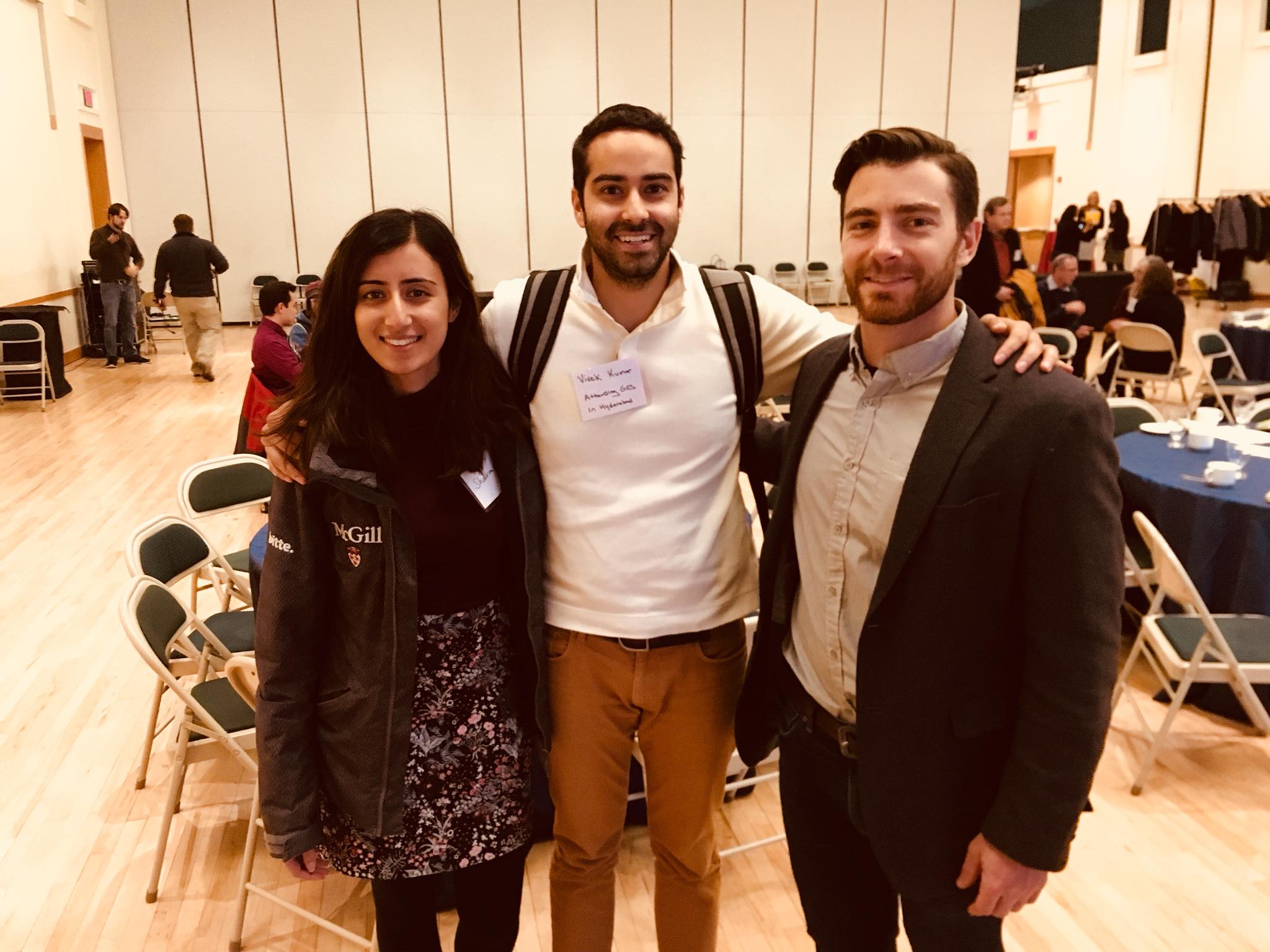 Anu, Vivek and John at the Road To GES: Pittsburgh event on November 17th, 2017. 
The snapchat story: