When a famous boyband called Oasis wrote a song titled 'Don't look back in anger', they probably didn't think it had much application to the hospitality market.
'And so, Sally can wait' begins the chorus, 'she knows it's too late…her soul slides away. But don't look back in anger, I heard you say'
To most people, the song sounds like it's being sung to an ex-girlfriend.
To me, it sounds like it's being sung by a hotelier to a disappointed guest, and it captures a common scene that plays out at hotels across the country, every day.
Let's imagine Sally is one of your guests. She arrives at your hotel bright-eyed and full of excitement, but things go downhill shortly after check-in. Her room smells a little musty and she notices the coffee pods haven't been restocked. She's busy so she doesn't say anything. The next day, Sally sees the room has been cleaned, but the coffee still hasn't been replenished and the shower is now dripping. Again, she stays quiet as she's not staying for long.
As she checks out, Sally thanks your hotel and you ask her leave a TripAdvisor review.
Sally writes the review and leaves positive feedback on the hotel's location and service. She also mentions a few of the things that detracted from her stay. She had a nice time, but it sounds like she won't be coming back.
The review is picked up by your GM and finally, you see some of the things you could have fixed: the room, the coffee pods, the shower. If only you'd have known while Sally was there. 'Don't look back in anger Sally' your GM – a major Oasis fan – says.
Sound like a familiar scene? Perhaps not the last part about your GM being an Oasis fan, but what about the rest?
Sally represents a typical hotel guest.
Like Sally, most guests aren't forthcoming when it comes to verbalizing their feedback. Sure, they'll leave a review on TripAdvisor, but they won't provide their comments in-person. If they've had a bad experience, they simply won't return. That's one lost customer. But the pain doesn't end there. If they write a negative review on TripAdvisor, even if you respond and apologize, you can't undo the reputational damage as the feedback is seen by other prospective guests.
One bad review can result in up to 30 lost customers and $4,000 in lost revenue.
What if there was an easier way to capture feedback from guests like Sally? A better way of resolving her concerns, while she's onsite, so she has a better experience and decides to come back?
With Qlicket, there is.
Over the past year, we've been rolling out a real-time guest feedback solution that offers a quick, natural and unintrusive way of collecting feedback while guests are onsite.
It's predicated on a language everyone understands: smileys!
Guests select a smiling, neutral or frowning face and have the option to add commentary on their stay as they sign into the WiFi. All neutral and negative feedback is routed to the front desk instantly, so your team can review and resolve issues while guests are still at the property.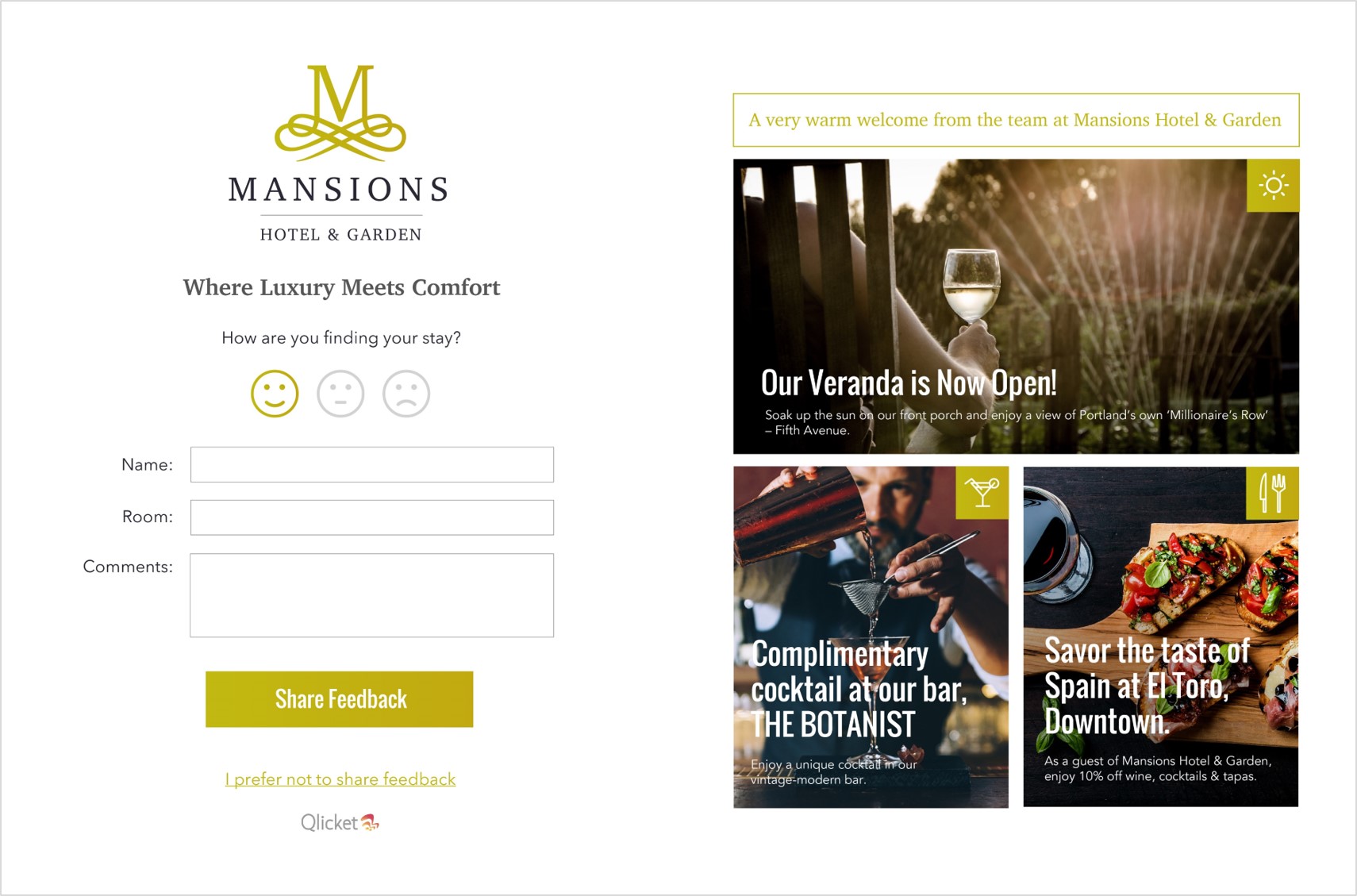 Our system captures up to 12x more feedback than TripAdvisor, Booking.com, Hotels.com and Google. 
It yields a much higher response rate than post-stay email surveys for three reasons:
1. It's simple
We don't ask guests to rate every amenity, interaction and service on a scale of 1 to 10 (it's 2017, who has time for that?). You just select a smiley and add a comment.
2. It's real-time
We strike in the moment, while guests are in the right frame of mind to provide feedback.
3. It's integrated with the WiFi
Which 90% of guests – every business traveller, every millennial, every digital native – signs into.
We're excited to be rolling this out. If you would like to test it and see how it boosts guest satisfaction, reviews and loyalty, let us know!
If only Oasis could have known about real-time feedback. Maybe the lyrics would have been different.
'And so, Sally can't wait to go back…she knows it's will be great…'
(It might take us a little longer to figure this out!)