As economic analysts and government agencies look ahead to 2019, data suggest three undeniable trends in frontline industries: job growth, wage hikes, and labor shortages. 
Since workers will become more expensive and less plentiful, American companies associated with these industries will develop strategies adapted to employee retention in order to remain competitive.
2018 was a historically strong year for frontline industries.
In sectors such as mining, construction, and manufacturing, American firms created an unexpectedly high quantity of new jobs in 2018. According to the Bureau of Labor Statistics, manufacturing added 284,000 hires, while construction added 280,000 and mining added 60,000. Retail, transportation, and warehousing—which also rely upon hourly employees—posted similarly high gains.
In particular, the manufacturing sector experienced its most robust twelve-month period of hiring since 1995. The Bureau of Economic Analysis estimates that American manufacturing shattered expectations by producing $6 trillion in gross output.
A report released by The Conference Board—a nonprofit dedicated to generating insights about the international economy—predicts that job growth in frontline industries will only accelerate in the new year.
Higher pay and fewer workers will confront firms in 2019.
Although new hires are positive indicators for companies that rely upon hourly workers, the growth of frontline industries creates urgent workforce challenges. The Conference Board anticipates that agriculture, manufacturing, utilities, transportation, food services, and several additional sectors will experience pressure due to rising hourly wages and a shrinking supply of workers.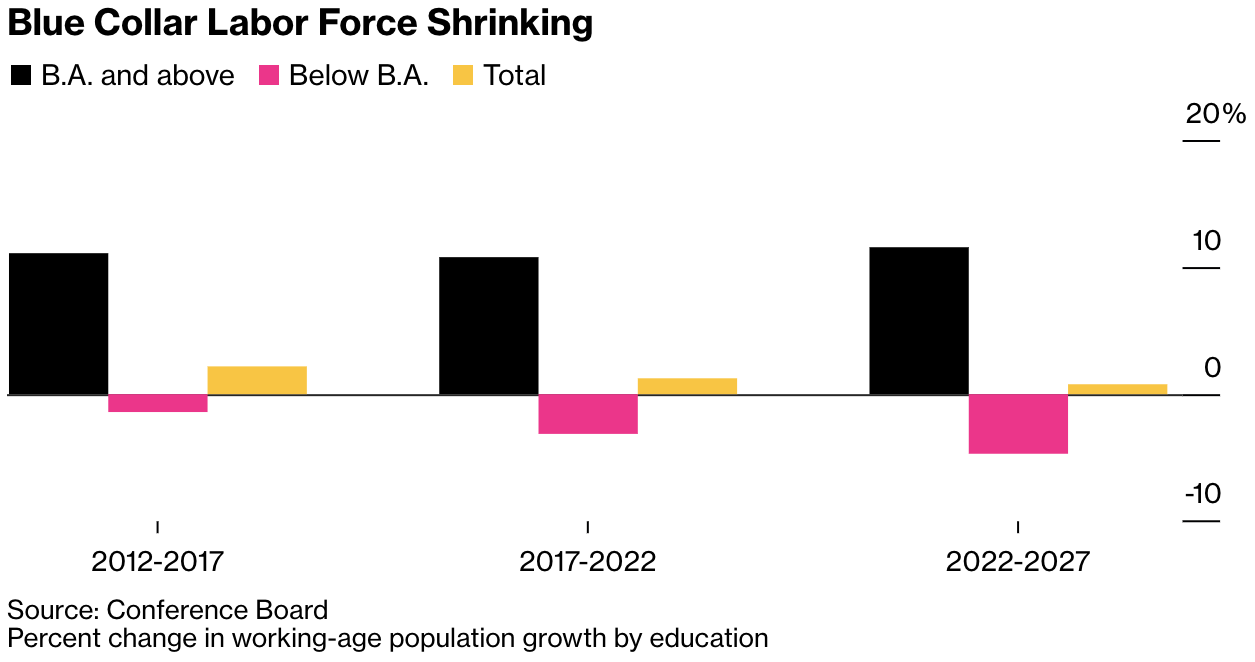 "The threat of labor shortages is more acute in blue-collar and low-pay services occupations than in more highly educated white-collar occupations, the exact opposite of the prevailing trends in recent decades. We expect that by the end of 2019, the labor market will be historically tight." 

— The Conference Board, December 2018
Contracting supplies of workers are already presenting existential threats to certain businesses. Consider trucking, for instance. The industry faced a shortage of 60,000 drivers as of July 2018, and firms were pressed to increase wages as they coped with annual retention rates of 10%. The Bureau of Labor Statistics projects that the shortage experienced in 2018 will triple by 2026—placing intense pressure upon trucking companies to retain employees.
The poison: a shrinking hourly workforce. The antidote: employee retention.
In 2019, employees in hourly industries will experience heightened external demand for their skills. As a result, workers will maintain higher expectations about their current jobs.
Companies that do not routinely measure their employees' engagement and strive to improve retention will witness their employees exit in favor of better conditions elsewhere. Today, providing hourly employees with a voice is more important than ever.
For each hourly worker that leaves a given company, the cost of churn is equivalent to 16% of the worker's annual wages. Therefore, failure to retain employees represents a death sentence for frontline enterprises.
A changing hourly labor landscape indicates that the key to a vibrant and low-turnover workforce is a proper understanding of workers' needs, issues, and levels of satisfaction.